Fire Festival, 2008
New Haven welcomed their first Rendezvous and street show. It was a great success, with a nice crowd. The weather was a little warm, but, no one seemed to mind.

| | John Colter, one of the crew with the Lewis and Clark Expedition and a seasoned mountain man, settled here on the bank of the Missouri River. |
| --- | --- |

| Other mountain men would camp on the banks of the Mighty Missouri as they traveled west | |
| --- | --- |

| | Even mountain men would appreciate some comfort at their campsite. | |
| --- | --- | --- |
| | Kids and adults enjoy trying their luck at throwing a tomahawk. |
| --- | --- |
Anytime a group of mountain men gather. You can bet there will be someone who can play some music. Usually an Indian Flute for everyone's enjoyment.

This is Pablo and you can hear his music on any of my pages.
| | A beautiful display of hand woven basketry. | |
| --- | --- | --- |
A class in Blacksmithing was held in one of the pavilions.
| | Some of the knives and tools from the forge. Hammered into shape by professional craftsmen. | |
| --- | --- | --- |
And a demonstration in glass blowing was held on the street, in the down town area
| | Also, items made by other craftsmen. | |
| --- | --- | --- |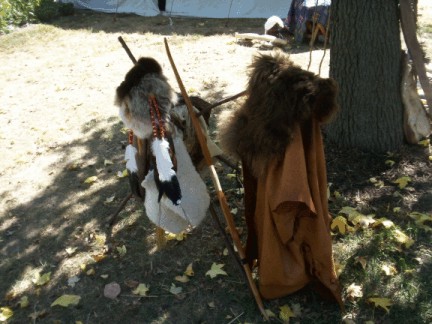 Music...Firelight